Senators Duff, Haskell visit Goodwill Career Center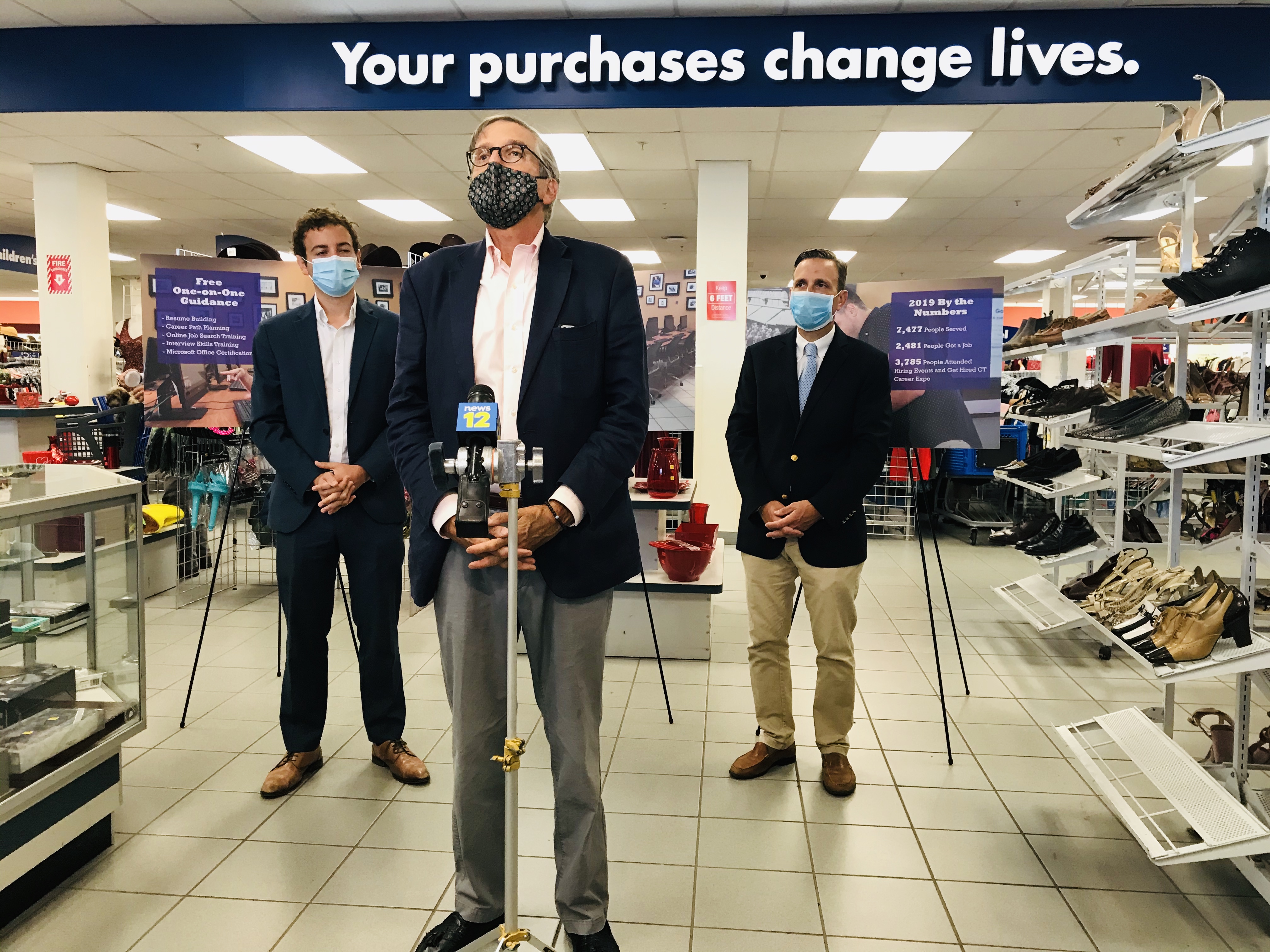 Senator Haskell, left, Jeff Wieser, middle, Senator Duff, right
FOR IMMEDIATE RELEASE September 30, 2020 CONTACT Joe O'Leary 508-479-4969
SENATORS DUFF, HASKELL HIGHLIGHT IMPORTANCE OF GOODWILL CAREER CENTERS IN NORWALK
NORWALK – With tens of thousands of Connecticut workers experiencing layoffs, reduced hours or reduced employment due to the strains of the COVID-19 pandemic, it is imperative they have every resource available to navigate the job market. Today, Senate Majority Leader Bob Duff (D-Norwalk) and State Senator Will Haskell (D-Westport) joined with Goodwill Interim President Jeff Wieser at the Norwalk Goodwill Career Center to raise awareness of the free resources available to the public there. Goodwill offers seven statewide career centers, all but one of which have remained open during the pandemic, as well as virtual career services. They offer one-on-one job training and preparation ranging from resume assistance to local job listings, interview preparation, networking tips, computer skill enhancement and connections to other local community resources.

"In times like these, it is vital that those seeking employment have as much help as they can get," said Sen. Duff. "That's why I'm thankful we have resources like Goodwill's Career Centers to help those looking for work. They're essentially a one-stop shop for resume building, one-on-one guidance and everything else job hunters need. I'm hopeful that the pandemic will soon be a memory, but in the meantime, we need places like these to help those in need."
"This public health crisis has become an economic crisis for many workers," said Sen. Haskell. "Goodwill's Career Centers are providing critical support, both in-person and virtually, to those who are unemployed. It was heartening to meet their team and learn more about resume assistance and the other tools they offer to help Connecticut get back to work."
"It was a pleasure to have Senator Duff and Senator Haskell join us today at our Goodwill Norwalk location to understand the mission behind the stores," said President Wieser. "Through seven free Career Centers around the state, and a complementary suite of virtual services, we help strengthen the lives of more than 7,000 Connecticut residents each year by assisting them in developing skills and gaining employment. During this pandemic, our in-person and online services have never been more vital, and in getting Connecticut back to work, we welcome anyone who needs a leg up in finding full time employment!"
Goodwill operates seven Career Centers across Connecticut. While its Torrington location remains closed due to the COVID-19 pandemic, additional locations are open and available in Bridgeport, Enfield, Hartford, Norwalk, Shelton and Waterbury. Members of the public can stop by most centers M-F for a one hour session between 9 a.m. and 12:30 p.m. and from 1:30 to 3:45 p.m. Visitors will have temperatures checked and will be asked to wear masks and obey social distancing and capacity guidelines. Assistance with resumes and cover letters is only available through virtual services and the organization hosts several workshops online. For more information, please visit Goodwill's website here.